Citizens protest Oncology Clinic scandal, demand details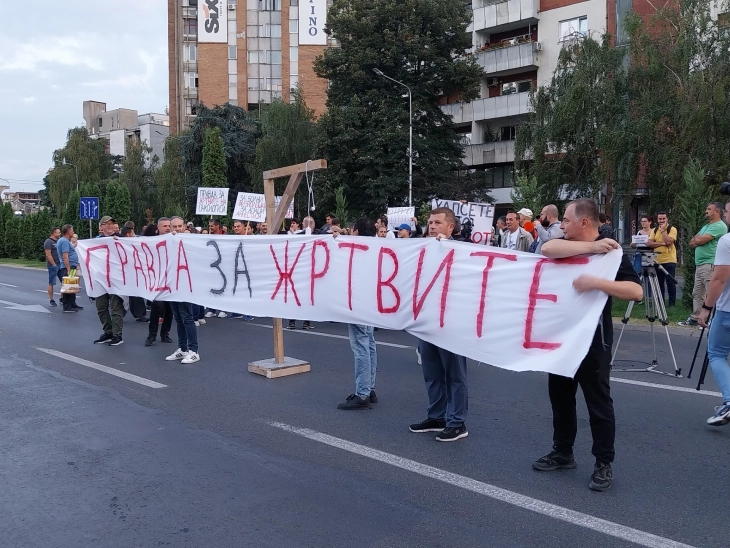 Skopje, 25 September 2023 (MIA) — Members of the public gathered Monday evening in front of the Government building and marched to the Ministry of Health to protest the Oncology Clinic scandal and request from the Public Prosecutor's Office to release more information on its probe into the Oncology Clinic practices following media allegations that its staff were withholding life-saving medical care from cancer patients and reselling cancer drugs.
Carrying "Justice for the Victims" banners, protest organizers said their demands for more details regarding the progress of the investigation went unanswered last week. So they announced more protests every Monday evening until the investigation produced indictments and they were publicly announced.
If this did not happen by November, they said, they would ask for the international community to join them in their demands that the authorities release more information to the public.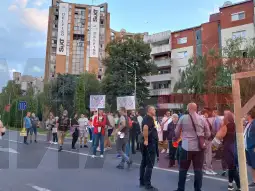 "Until Nov. 1, if the protest organizers' ultimatums are not fulfilled, together with fellow artists, journalists, non-governmental organizations, and civil associations, we will ask for international support for these protests and for the release of all information related to the Oncology Clinic," said Darijan Petrov, an activist and theater actor.
Protesters on Monday listed six new demands: to launch an investigation into the involvement of former Minister of Health Venko Filipche and former director of the Oncology Clinic Nino Vasev in the scandal; to expand the investigation into the practices of the Children's Oncology Clinic; to do a complete audit of the Oncology Clinic; to deliver court verdicts for all perpetrators of the crimes in the Oncology Clinic; to release all information regarding the Covid-19 modular hospital fire in Tetovo; and to hold the Public Prosecutor's Office accountable for deciding there was no crime committed in the tragic case of the six-year-old Jana Hristovska who died just a few hours after being admitted in the Bitola hospital for consequences of a viral infection that left her with heart damage and her parents voiced suspicions of medical malpractice.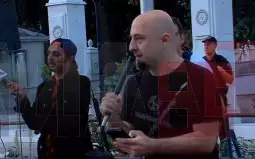 Protesters also expressed their outrage regarding the latest amendments to the Criminal Code.

"And you, my dear fellow citizens here, who think we can achieve nothing with protests, just remember how, right after our first protest, they fast-tracked the changes to the Criminal Code so that they drastically reduce their penalties for criminal association and abuse of office. This is a true sign they are afraid of their people and they should be," said protest organizer Aleksandar Panajotov.
"We are not only fighting for ourselves, but also for our future, our children. If we want to have it, we have to continue being loud, defending our dignity and fighting for what everyone is entitled to: the best health care, education and functional institutions," he added.
On Friday, the Public Prosecutor's Office filed charges of embezzlement against an Oncology Clinic nurse who was suspected of stealing cancer drugs from the clinic to resell them. The suspect is unavailable to the authorities. mr/