Petrovska meets with Vermont National Guard Adjutant General Gregory Knight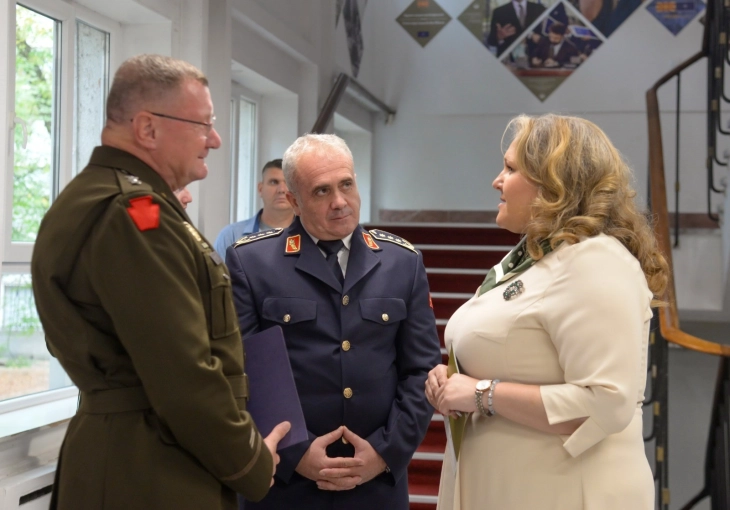 Skopje, 25 September 2023 (MIA) – Minister of Defense Slavjanka Petrovska held a meeting Monday with the Vermont National Guard Adjutant General, Major-General Gregory Knight, during which they spoke about the three-decade long partnership between the Army of North Macedonia and the Vermont National Guard, and its future intensification.
At a press conference with the Adjutant General, Petrovska said that North Macedonia is an ally which Vermont can rely on, and that as a result of the partnership, both armed forces have become a team capable of responding to all challenges.
"There is no stronger and greater reflection of our unity than what our forces in Task Force Phoenix demonstrated in Afghanistan in 2010, when they functioned as one, a single Army. There is no greater proof of our closeness than the continuous drills and trainings which benefit both the Army and the Vermont National Guard. There is no greater expression of willingness to continue down this path to even greater interoperability than our constant high-level contacts and meetings, which result in excellent ideas that we realize in their entirety," said Petrovska.
The Defense Minister also touched upon the great number of joint drills.
"Several large-scale exercises which were really successful are behind us, and we are already in the stage of planning the next joint exercises, which will be even greater and more important for our joint development. North Macedonia is ready to positively respond to the interest for joint activities with Vermont's partner countries, Austria and Senegal, which will widen and deepen our partnership," underlined the Minister.
Petrovska also mentioned the cooperation with Norwich University, noting that there is willingness on both sides for the cooperation to continue in the future as well. She voiced satisfaction that the close relations between North Macedonia and Vermont are reflected in the members of the Army and the National Guard, who, she said, as a result of three decades of partnership, have become true friends, "forging a bond which goes beyond the partnership."
Adjutant General Knight stressed that long-standing friendships have been built within the frameworks of the 30-year-long partnership, and these three decades are only the beginning of the cooperation.
"The bond established between our armed forces is stronger than ever before. Both large-scale training operations included several NATO member states, highlighting the busy year full of trainings during which the Army of North Macedonia and the Vermont National Guard could work and learn from each other. This type of training will continue, it's something that our soldiers are proud of," assessed General Knight.
This year marks the 30th anniversary of the partnership between the Army of the Republic of North Macedonia and the Vermont National Guard. Members of the Macedonian Army and the Vermont National Guard have conducted numerous joint trainings, with the participation of more than 1,800 Army members so far.
Photo: Ministry of Defense